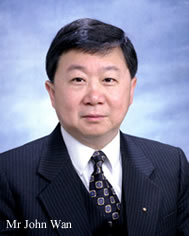 This is my personal website and I need to thank many friends for technical support in general and for getting me here in particular.
I had this page set up shortly after I stepped down as a Rotary International District Governor. That was 1 July 2001. A lot has happened since, but I am still keeping my photo taken in 2001. I have since retired from public life, but I still lead an active life and would love to communicate with any like-minded or not-so-like-minded individuals on any aspects of life.
The first postings on the website were all Rotary related. A bit later, I began writing in the format of letters on a variety of subjects which I did haphazardly but mainly while I was travelling in recent years. They are grouped under the respective categories with self-explanatory titles. In July 2015, I was elected Chairman of Convocation of the University of Hong Kong, which is a statutory body comprising all graduates and teaching staff of the premier university of Hong Kong, with membership then numbering over 162,000 and still counting. In an effort to reach my members,  I started a "Chairman's Column" on the Convocation Website; and at the same time generated a new category on this site, called "My Chair Days" to keep all the letters I have written in one place. In September 2016, I decided to leave this job, meaning that there won't be additions to this category. Again, for management reasons, I started a new category "A New Chapter" in which I would put whatever I am going to write; and I didn't know what I was going to write. In 2017, and having survived my first trekking experience in Nepal, I started yet another category with the long awaited title "My Travels" to which I would put my thoughts from my travels, beginning with Nepal. Somehow, I did not write much in the intervening years; and like most people, I have not been able to travel since mid March 2020 because of travel restrictions worldwide brought about by the corona-virus pandemic. During the lock-down, I have written my first autobiography which I plan to publish before Christmas 2020. So watch this column. In the meantime, I wish you all well.
9 November 2020