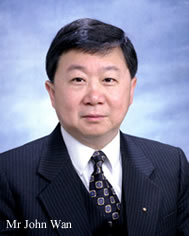 This is my personal website and I thank the District Webmaster of Rotary Internation District 3450 for hosting it and for the technical support.
The object of the site is sharing: sharing information, sharing the joys of life and sharing experience generally, good or not so good, hopes and fears, highs and lows and so on. Over the years, I have met many friends, but I have not been able to keep up with them in the manner and fashion I would like to. I hope this site can help me do better, specifically help me communicate better with my friends and bring me closer to all of you.
I welcome ideas and views from everyone, in particular views on
Rotary
Communication and communicating
Service
Charity
Youth
Brotherhood
Healthy living
Since July 1999, I have been sending letters, mainly by email, to Rotarians and friends. I have also written monthly articles during my tenure as District Governor Elect and District Governor. The result is a book called "Letters from a Rotarian." I now write for Kingspark News, the weekly bulletin of the Rotary Club of Kingspark Hong Kong in District 3450. I welcome your comments on these letters and articles.