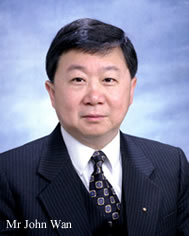 This is my personal website and I thank the District Webmaster of Rotary International District 3450 for hosting it and for the technical support.
I had this page set up shortly after I stepped down as District Governor. That was 1 July 2001. A lot has happened since, but I am still keeping my photo. I have since retired from public life, but I still lead an active life and would love to communicate with any like-minded or not-so-like-minded individuals on any aspects of life.
Until recently, I have posted on this site my letters written as District Governor, and letters on a variety of subjects that I had written occasionally but mainly while I was travelling in recent years. They are grouped under the respective categories with self explantaory titles.
In July 2015, I was elected Chairman of Convocation of the University of Hong Kong. Now, this is a statutory body comprising all graduates and teaching staff of the premier university of Hong Kong, with membership numbering over 162,000 and still counting. It is notably difficult to maintain contact with so many members of so diverse profiles and interest and hence I find it useful and indeed necessary to place on the record my peronal views on certain matters, which is why I started a "Chairman's Column" on the Convocation Website. So as to facilitate information management, I have generated a new category on this site, called "My Chair Days" to keep all the letters I have written in one place.
Once again, I hope to communicate with individuals, Rotarians, Convocation members or anyone, on anything, but in particular on service projects, education, charity, brotherhood, mediation, comparative religion, youth issues, healthy living and of course on Rotary and HKU.
It is now January 2016; and one of my New Year resolutions is to write more regularly than I have been, and that you would respond to some of what I have written. I wish you all well.