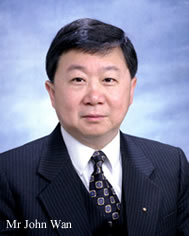 This is my personal website and I thank the District Webmaster of Rotary International District 3450 for hosting it and for the technical support.
I had this page set up shortly after I stepped down as District Governor. A lot has happened since, but I am still keeping my photo. I have since retired from public life, but I still lead an active life and would love to communicate with any like-minded or not-so-like-minded individuals on any aspects of life.
I welcome ideas and views from everyone, in particular views on
Rotary
Communication and communicating
Service
Charity
Youth
Education
Meditation
Brotherhood
Healthy living
Since July 1999, I have been writing letters, mainly by email, to Rotarians and friends. I have also written monthly articles during my tenure as District Governor Elect and District Governor. The result is a book called "Letters from a Rotarian." I now write when I feel like it in a page I call "Letters from John Wan". I hope to write more regularly than I have been, and I welcome your comments on these letters and articles.